Interview with Dapp.com CEO Kyle Lu: What is Dapp.com? Helping DApps Gain Well-deserved Recognition
Dapp.com is a "one-stop platform" for decentralised applications (DApps) across multiple blockchains.
Crypto Times has interviewed Kyle Lu, the CEO of Dapp.com. Lu was the former partner and VP global ecosystem for Achain. He has incubated over 10 DApps and taken Achain from a Chinese project to a global blockchain with a top 80 market cap. Being an evangelist for DApps, Lu is also an author for Hackernoon, Good Audience, etc. and a regular speaker for DApp market analyses and blockchain adoption.
Below is an edited transcript of our interview.
1. What is the core service Dapp.com provides?
Kyle Lu: Dapp.com is a one-stop platform for decentralised applications (DApps). We allow users to explore 1,700 ranked blockchain games, social network, tools built on Ethereum, EOS, Steem, NEO and TRON. We believe that DApp games will be one of the first major applications of blockchain technology, and there are already good ones out there.
Currently, there are two problems. First, DApps are hard to access. We have kind of solved this accessibility problem by providing a marketplace to discover all kinds of DApps from major blockchains. Secondly, using DApps can be complicated – you have to set up different accounts (wallets), hold different tokens and install different browser tools for each blockchain. What we are building is an all-in-one platform where you can set up/manage these accounts, find DApp games and simply use and play.
The DApp market is growing, and a lot of good contents are emerging now. In order for this market to continue growing, we need the following things: Infrastructure (blockchain platforms), contents (products), public interest in DLT and tools like wallets. We at Dapp.com aim to effectively connect all of these in just one platform.
2. What is the difference between Dapp.com and DAppRadar?
KL: DappRadar is more like a list of DApp user data. Dapp.com is the App Store for DApps which also showcases a lot of data analytics.
Some data, like numbers of total users/players, are only available at our platform because we believe that is important for users. At Dapp.com, users can also see app reviews and tips, just like Apple's App Store. The whole idea is to help users discover good projects.
And we will also have a new wallet tool to provide an easy access to account set-ups and management. Users will be able to use DApps on Dapp.com very soon.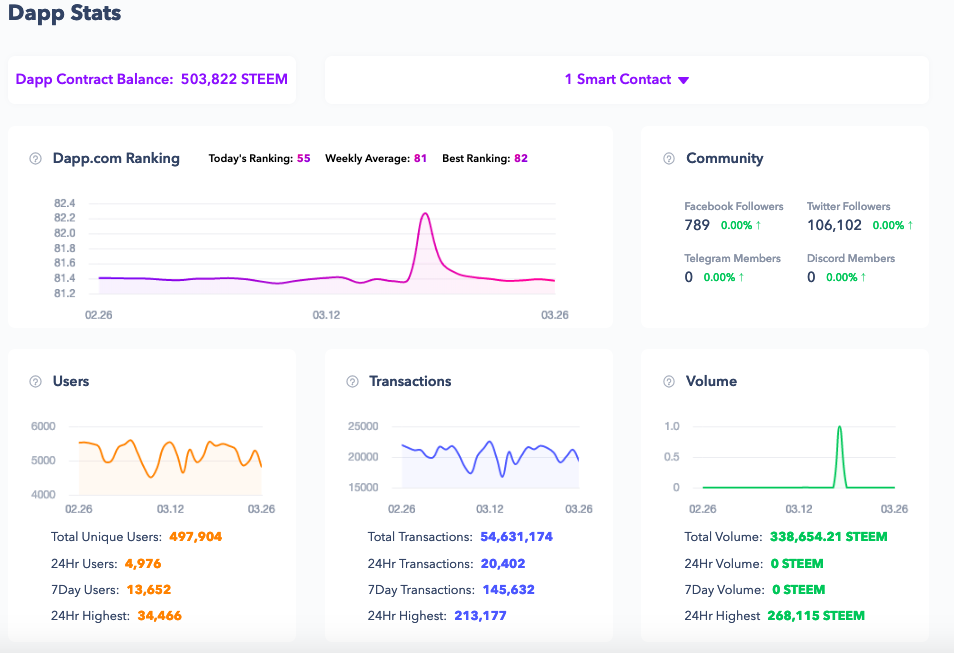 3. What are Dapp Tokens (DAPPT)?
KL: Dapp Token is an ERC-20 utility token for our ecosystem. You can pay for various platform services like account creation with DAPPT. For example, you normally have to pay a fee to create an EOS account, but by using DAPPT, you can do it cheaper and easier on our platform. Thanks to our partners like Kyber Network, PundiX and 0x, DAPPT can also be used to get an access to some premium contents/functions for partnered decentralised applications.
And of course, DAPPT is also the core of our incentive mechanism. We are currently giving out some DAPPT to the community.
4. The concept of browser-based DApp games is novel, but the games themselves are not particularly exciting at the moment. How can DApp games compete against well-made ones that are normally distributed on centralised platforms such as App Store, Steam, etc.?
KL: We have to agree that DApp games or blockchain games have less gameplays than those of traditional games. But, the technology is only a one-year-old child and it takes at least 9 months to develop larger games. We are happy to see that larger game studios and companies are already building blockchain-based games, as they saw that there is a great market opportunities to build more collaborative games and also allow user to own in-game assets. And they have also suffered a lot from having to share up to 30% of their profits with App Store and Google Play.
I believe that the the difference between normal and decentralised applications will be unrecognisable in the future. People won't even know if they are using normal or decentralised apps. For example, take a look at Steemit. There, users don't really feel like they are interacting with a blockchain, but they are certainly benefiting from it – contents are permanently stored on chain and resistant to censorship.
But, at this stage, I think people actually need to see that they are playing decentralised applications so the technology gains some recognition it deserves.
5. What is your expansion plan for Japan?
KL: Japan is a very crypto-friendly place because the regulation is clear – we know exactly what we can and cannot do.
We believe DApp gaming is the next buzz in the industry and Japan has a lot of good game developers and skilled gamers, so this is a huge market for us. Our current goal here is to work closely with Japanese game developers and establish a local community.
関連記事 同じライターから
同カテゴリの人気記事